Local Covid-19 Regulations & Latest News
- Last update on August 1, 2021
No Quarantine Requirement
Turkey accepts tourists from most countries of the world without any quarantine requirement. Travellers who are fully vaccinated or who have overcome the disease during the last six months can enter Turkey without restriction. Otherwise they must submit a negative PCR test obtained within the last 72 hours prior to arrival. For country-specific updated information please visit the Turkish Airlines page by clicking here.
Face Masks
Wearing a face mask in all public spaces including on the street is officially still obligatory in Turkey. On paper there is a never-applied penalty of TL 900 (~90 Euros) for violations. Compliance with wearing masks outdoors has declined gradually in recent times. Face masks are available on your request at the Front Desk.
No Night Curfews, No Time Restrictions
On July 1 Turkey entered into the last phase of the normalization process where all remaining restrictions concerning the curfews and restaurant working hours are lifted and public life returned to normal.
Vaccination Campaign
In Turkey until today 49% of the population have received at least one dose of vaccine and 33% of them two or three doses. In our hotel all staff have been fully vaccinated against Covid-19.
Covid-19 Test in the Hotel
At both Istanbul airports passengers flying to several countries are required to come up with the negative result of a Covid-19 PCR test made during the last 48 hours before their flight. Many hospitals and laboratories in Istanbul do these tests on demand. For the convenience of our guests we cooperate with a laboratory which sends a representative to our hotel upon appointment to take the sample for the test. The price is TL 350 (~35 Euros); the result is obtained within the same day.
---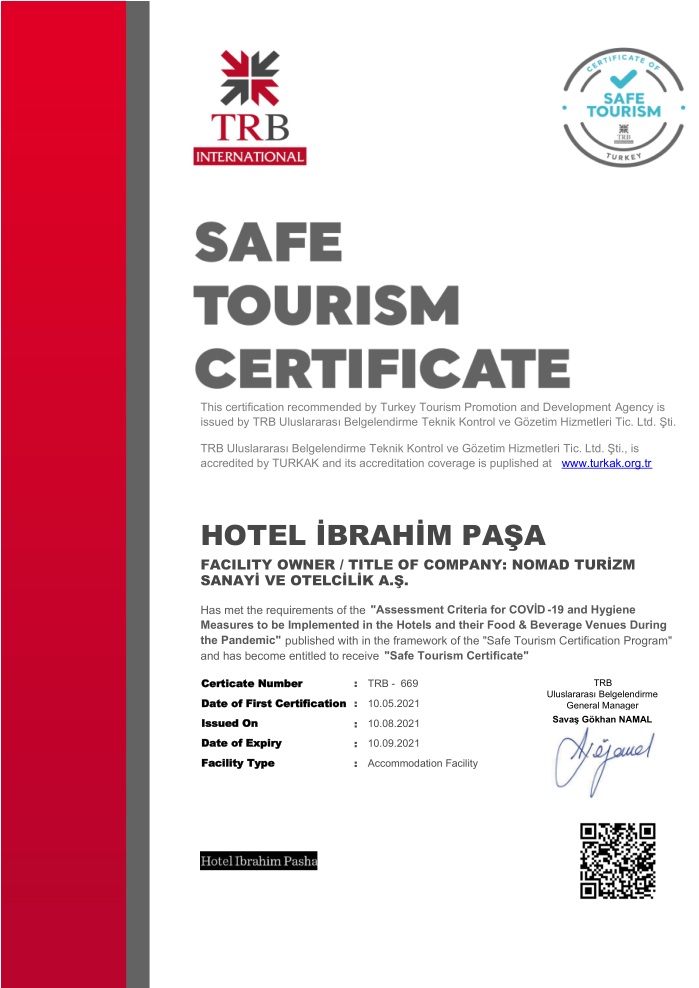 Safe Accommodation
During this period of uncertainty we take the utmost care to ensure every stay with us is safe, clean and comfortable and take all the necessary precautions concerning hygiene and social distancing. In this respect our hotel has entitled to receive the 'Safe Tourism Certificate' issued by the Ministry of Tourism and Culture. The certificate confirms our compliance with all the appropriate health and hygiene regulations and it is renewed every month after a regular inspection. All staff in our hotel are fully vaccinated against Covid-19.