Local Covid-19 Regulations & Latest News
- Last update on May 18, 2021
No Quarantine Requirement
Turkey accepts tourists from almost every country of the world without any quarantine requirement. On the other hand all travellers must submit negative PCR test results obtained within the last 72 hours before their departure.
Face Masks
Wearing a face mask in all public spaces including on the street is obligatory in Istanbul. For violations there is a hardly applied penalty of TL 900 (~90 Euros). Face masks are available on your request at the Front Desk.
Night and Weekend Curfews for Local Residents (but not for Tourists)
During the first phase of the normalization period ending on June 1, for local residents in Turkey there are a night curfew after 9pm during the weekdays and a full time curfew on Saturdays and Sundays. This regulation concerns only the local population and tourists are exempted from this rule. During the curfew periods tourists can freely go out and enjoy their time off in the streets of an unusually empty Istanbul. Taxis and public transport continue working as before; museums stay open. The three major historic sites close to our hotel, Hagia Sophia, Blue Mosque and the Topkapi Palace stay open to visitors during the weekends.
Restaurant Closures
Until June 1 restaurants and cafes in Istanbul will be open only for takeaway and delivery services. During this period one can also order food online and let them be delivered to the hotel without a time restriction. On the other hand in the touristic area around our hotel some restaurants continue accepting clients in spite of the general regulation. In our hotel we are well-prepared to this new situation and assist our guests in ordering meal from selected restaurants and serve them in our dining hall or in their rooms. Click here for the menus of these restaurants.
Vaccination Campaign
Turkey started its vaccination campaign in January. Until today 18% of the population have received at least one dose of vaccine and 13% of them the two doses.
Covid-19 Test in the Hotel
At both Istanbul airports passengers flying to several countries are required to come up with the negative result of a Covid-19 PCR test made during the last 48 hours before their flight. Many hospitals and laboratories in Istanbul do these tests on demand. For the convenience of our guests we cooperate with a laboratory which sends a representative to our hotel upon appointment to take the sample for the test. The price is TL 350 (~35 Euros); the result is obtained within 24 hours.
---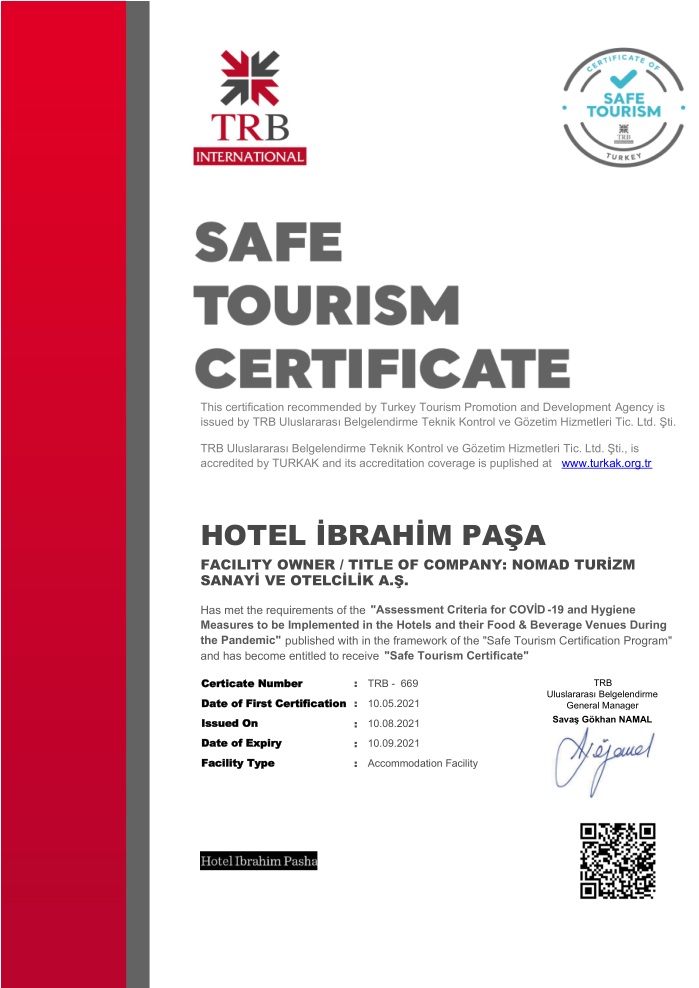 Safe Accommodation
During this period of uncertainty we take the utmost care to ensure every stay with us is safe, clean and comfortable and take all the necessary precautions concerning hygiene and social distancing. In this respect our hotel has entitled to receive the 'Safe Tourism Certificate' issued by the Ministry of Tourism confirming our compliance with all the appropriate health and hygiene regulations during the pandemic period.